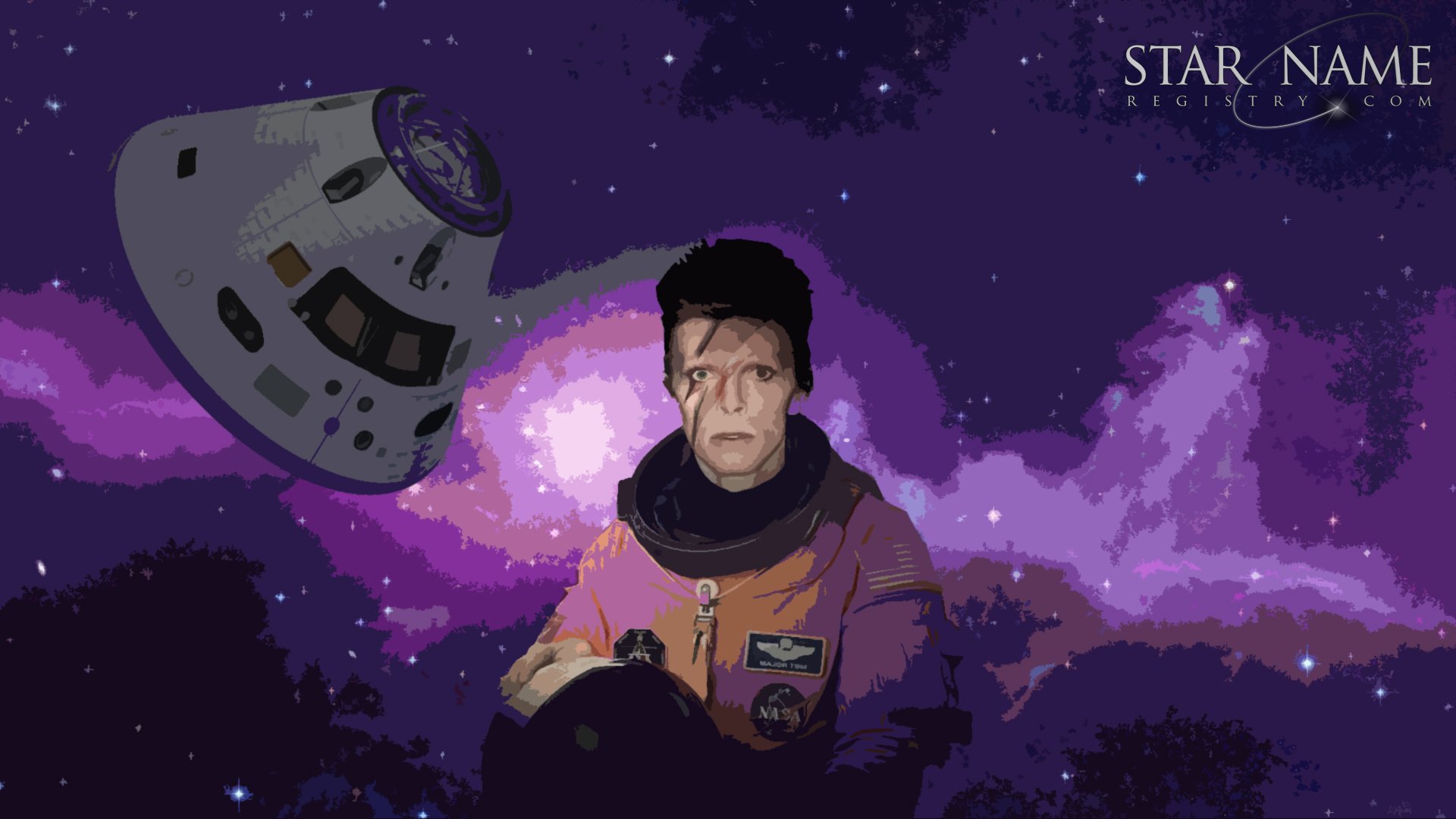 It's hard to believe that it's been 2 years to the day since we lost David Bowie. There are a fair few of us Bowie fans at Star Name registry, considering he wrote so many songs about space we thought we'd do a little tribute of his best songs that are about the stars and space – or use a metaphor associated with space to comment on something happening on Earth.
Space Oddity
Space Oddity needs no introduction – it remains a staple of the Bowie song cannon. It's takes us just beyond the stratosphere where Bowie gives us a view of the world from the heavens.
'Planet Earth is blue, and there is nothing I can do'
It's a melancholic meditation on how disconnected we can be from the world – being able to see and understand all it's problems, yet having no power to do anything about it.
Life on Mars
Life on Mars is arguably not just the best pop song Bowie ever wrote, but perhaps it's the best pop song ever. More than anything else, the song poses the question 'is there life on mars' it seems to within the context of the song really something that comes out of blue and is oddly irrelevant to the rest of the songs themes and lyrics. Once you've heard it once you will never forget it, and it's likely to haunt your subconscious for many years to come.
*BONUS* – Rick Wakeman Plays Life on Mars & Space Oddity
Rock fans will be very familiar with Rick Wakeman – the keyboardist from Yes and close friend of David Bowie, and recorded with him serval times The video below is a recording Wakeman made shortly after Bowies death where he does a piano only rendition of Space Oddity and Life on Mars.
Starman
The Rise and Fall of Ziggy Stardust and the Spiders from Mars – long title for a pretty epic album – often considered the greatest Glam Rock album that's ever been made. The story follows the exploits of Ziggy Stardust – an alien who comes to Earth after the planet learns it's doomed to destruction in five years. Starman is the song that unveils Ziggy to the world.
_There's a starman waiting in the sky

He'd like to come and meet us

But he thinks he'd blow our minds_
The Prettiest Star
One of Bowie's more conventional songs, is a straight up love song. The object of his affection being compared to 'the Prettiest Star'
_You and I will rise up all the way

All because of what you are

The Prettiest Star_
Rumour has it that Bowie used this song to propose to his first wife – be playing the song over the telephone with his backup band present. Being a troupe of who spends their time helping people to dedicate a star, to adopt a star, and to name a star we can't help but approve!
New Killer Star
Jumping forward to 2003 with New Killer Star from his album Reality. It's a more politically charged song, (new killer star said quickly sounds like nuclear star) talking not just about nuclear proliferation, but also the tense atmosphere that engulfed the USA just after 9/11.
Hello Spaceboy
As with most songs by Bowie, it can be tricky to pin down exactly what meaning he had behind the song. Though we like to think this a reflective piece on Bowie himself – with the Spaceboy in question being him.
The Stars Are Out Tonight
A fun little rock/pop tune from Bowie. Pretty average as far as flair goes, but the music video is definitely worth a watch – as it has a very cute scene with Bowie and the wonderful Tilda Swinton playing an older couple.
Slip Away
The 21st century was an interesting time for Bowie. He was no longer a young man pioneering the future of music, but a grand old man with his reputation firmly established. It was also a time where many of his old rock star friends were beginning pass on. Slip away is a nostalgic reflection of the loss of those friends. While the song title doesn't have any mention of space in it , there is a really touching specific lyric that highlights the sense of sadness that Bowie feels.
_Down in space it's always 1982

The joke we always knew…_
Looking for satellites
Earthling is an odd example in the Bowie Cannon – as it was his foray into house and techno music of the 90's. There were even tales of bowie DJing at night clubs incognito. Those 90's influence's are heavy in Earthling – yet still draw on Bowies Glam Rock traditions. Looking for Satellites is the sole mention of the interstellar in the whole album.
Dancing out in Space
A fun little track that explores a little desire we probably all have had at some point. Dancing out in Space !
Blackstar
The titular song from Bowie's last album. Released just 2 months before his death, the song garnered a strong reaction shortly after as it seemed to foreshadow what was to come.
_Something happened on the day he died

Spirit rose a metre and stepped aside

Somebody else took his place, and bravely cried

(I'm a blackstar, I'm a blackstar)_
The album was recorded with Bowie knowing of his cancer diagnosis, being very uncertain of his fate. With Bowie not knowing if he was indeed going to survive – his future uncertain the album is filled with doubts about the future. Blackstar the song, and the album for that matter, leaves a quite an impression. It's an appropriate swan song to an amazing career.
In whatever way you'll be celebrating the life of David Bowie, we hope our little playlist adds a little stardust to your day! Speaking of…
You can find a link to the whole playlist below: