As the intense Aries season comes to an end, the lazy Taurus season is upon us. Taurus season usually begins around the 20th of April through to the 21st of May and those born between those dates may be called Taureans. The sign belongs to the Earth element and has a feminine or negative polarity. Taurus was the first zodiac sign established and is known as 'The Great Bull of Heaven'. Those born during the sun's transition through Taurus have specific strengths and weaknesses according to astronomy. Their strengths include; being reliable, patient, practical, devoted, responsible and stable while their weaknesses are thought to be; being stubborn, possessive and uncompromising.
In Greek Mythology, the Bull betrayed their best friend, goddess Hera herself and is now an unfortunate being that has to wander the Earth in order to find freedom. Taureans close up their own worlds, lonely and separated from their core. To find love, Taureans have to travel the world, change perspective or make shift in their own entire belief system and their system of values.
The Taurus constellation is visible in Winter and Spring in the Northern Hemisphere and in Summer and Fall in the Southern Hemisphere. Many people choose Taurus for their star to be in not only because of the Zodiac sign but because of all of the famous stars that may lay among theirs, such as Aldebaran as well as clusters like the Pleiades and Hyades with the Taurid meteor shower in November 2019!
Hubble Space Telescope Turns 29 Years Old!
As you may have seen on our Social Media pages this week, the Hubble Space Telescope turned 29 years old! It was launched into space on the 24th of April 1990 and has since had 1.4 million observations of nearly 45,000 celestial objects. For it's birthday, Hubble took the below picture of the Southern Crab Nebula in the Centaurus constellation!

Space X Launch
The next Space X Launch is scheduled to go ahead on the 30th April 2019 at 04:22am EDT making it the 27th commercial resupply services contract mission for NASA to the ISS.
Social Media Feature
Back in February, we got in contact with Charisse who was very interested in naming a star after her boyfriend to celebrate his birthday! Once Jon's birthday had passed and the surprise was revealed, Charisse posted a picture of her certificate to show her 103,000 followers how special this gift was to her and Jon! Check out Charisse's Instagram page here!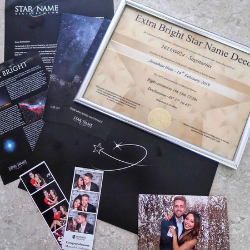 Did you buy a star in the last week? Send us your picture to [email protected] to be featured on our Social Media!