Have you recently named a star after someone? Did you know that us here at Star-Name-Registry.com have our very own star register where you can view your star online and see stunning pictures of your star shining brightly in the night sky! Not only do we have our own online database, but we also have a BRAND NEW APP! Available on Apple and Google Play, 'Find my Star' is the perfect app to help you find your star in the night sky.
Our international star database is incredibly simple to navigate, all you need to do is enter in your reference number which is on the top of your certificate and your star will be there to view! You can view the image of your star, view the star on Google Sky, NASA SkyView and the ESO archive! You can see all your star information on there too, such as the star name, co-ordinates, magnitude and the constellation! So, your stunning, gold stamped certificate can remain picture perfect in a frame, pride of place in your home, while you can still view your star on the go!
As far as we are aware, we are one of the only galactic star registration companies that have our own database where you can search for your star and view it all in one place, without the hassle of using the super long co-ordinates on a random system that may not even lead you to your star. Our star-register can show you crystal clear images of your star with a click of a button, super easy and super-fast! You can even use your mouse (or pinch your screen if you are using the app) to zoom in and out, so you can see where your star is located compared to other constellations and bright stars, making it even easier to locate your star if you are using a telescope or you are star gazing at night.
How to use our Star-Register
When you first open our star register app, you can see at first glance a few of the hundreds of thousands of stars that have been named on our international star register! To find your star, use the search bar to enter in your unique reference number that is on the top of your certificate, this will bring up your star as below –
Here, you can see your uniquely named star, the magnitude of your star (how bright it appears from Earth, based on the distance and the size of the star) and the right ascension and declination of your star (the co-ordinates of your star, where it is located). By clicking on your star, you will be taken on a journey through the Galactic and brought to a screen where you can see your star!
Viewing your star on a desktop
If you are on a desktop, you will immediately be taken to a screen where you can see your star, circled by a red arrow! This is the star that you have named, how special is that?! In the top left-hand corner of your screen, you can see where it says 'View', this is where you can choose which system that you would like to view your star on. As mentioned earlier in this blog, you can view your star via Google Sky, NASA SkyView and the ESO Archive!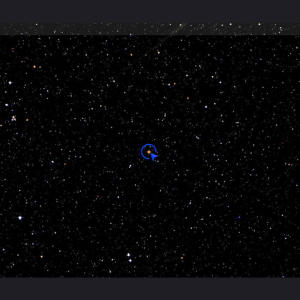 Viewing your star on our 'Find my Star' mobile app
If you are using our mobile app to locate your star, once you have entered in your reference number and found your star, you are given 4 options to view your star. You can choose to view and image of your star or the 3 systems that we have available to view your star on, such as Google Sky, NASA SkyView and ESO Archive! You can even share your star details with your friends and family so that they can view the star that you have named too!