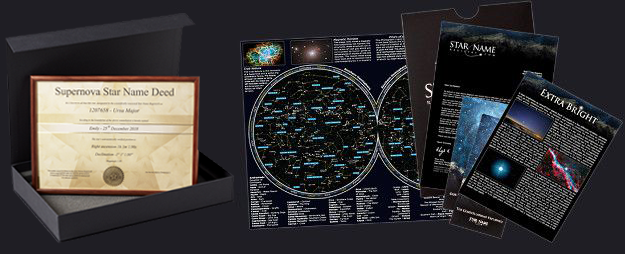 This is our
Supernova Star Gift Set
With limited supply you can be sure to be assigned one of our most prestigious & visible stars of all! Also with our new App for iPhone and Android you can see clear images, track and even see the chemical make up of your newly named star.
Name one of our rarest and brightest stars with our Supernova gift set. Presented in our signature luxury gift box with a beautiful wooden frame this is our most prestigious gift package you will be sure to make the biggest impact for such a unique gift idea. Your gift will include:
Entry into the registry.
Locating via our New App.
A4 Star Name Deed.
The Sky Atlas Star Maps.
A4 wooden certificate frame.
Black presentation box.
For the quickest delivery pick email delivery, sent to you within 10 minutes of ordering.